Addressing gender balance
We are building an inclusive culture where everyone is valued for who they are and what they bring. Our Diversity and Inclusion framework guides the action we are taking over 2020-21. The framework reflects our most important priority areas and replaces previous action plans.
Within the four priority areas in our framework we continue to address any imbalance in our workforce, where our data tells us this exists. Our current focus is on achieving better gender and
ethnic minority balance
through our company and on opening up routes for those from a variety of backgrounds to join our industry.
Balanced representation of men and women in the workplace is vital to an inclusive culture, and can improve both company profitability (by 21%
1
) and the global economy (by $12 trillion
2
). With the disproportionate impact of COVID-19 on women
3
the need for a gender inclusive workplace, free from systemic bias has never been greater. We remain committed to making sustainable progress on gender equality in our organisation and across our industry.
HMT Women in Finance Charter
Our company was among the first signatories to the HM Treasury Women in Finance Charter in 2016, demonstrating our commitment to inclusion and diversity and pledging to increase gender balance in our senior management populations and across our industry.
Following our merger in 2017, we recommitted to the Charter and published our targets (detailed below) for the combined business in our 2017 Annual Report and Accounts.
We share the progress we have made against these in our annual Gender Diversity report.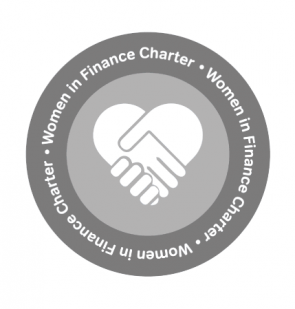 Our targets
We were delighted to achieve the targets we set for 2020 at Board and senior leadership (CEO-1 and CEO-2) levels (both targets were 33%).

From 1 January 2021 we have a new set of targets that build on our progress to date in gender diversity and reflect our ongoing commitment to address racial inequality. These will run to end 2025 with review regularly by our Board and Executive Leadership Team, reflecting the continually changing context.
Gender pay gap
COVID 19 has impacted so many aspects of our lives. The Government Equalities Office suspended reporting requirements for 2019/20, resulting in around half of companies not reporting their data. However, despite the suspension for 2019/20 of UK gender pay gap reporting requirements, Standard Life Aberdeen have and will continue to report our data. Read our latest report for 2020/21.
Both our mean gender pay and bonus gaps have reduced again this year, compared to last, and this year our median gender pay gap has also reduced. We are really pleased with a 5% reduction in our mean gender pay gap this year. 34.5% is still a significant gap, but we continue to work relentlessly on our gender actions which we know have a sustainable and longer term impact.

This year, we've made progress against these actions, including:
hardwiring D&I through our HR processes (critically analysing recruitment, performance management, talent, development, etc and adding behavioural nudges like gender decoding software for adverts and job descriptions)
targeting societal expectations and behaviours through policies (such as our industry-leading Parent Leave policy, which has been taken by 126 colleagues since launch, 55% of whom are men, with average time off of 95 days)
using detailed gender analysis to help shape our talent development offerings (introducing specific development for early career stages as well as mid and senior career stages)
strengthening our inclusive leadership capability building (which now includes workshops, online workouts, self-reflection tools, leadership team sessions, playlists and our Global Diversity Summit series).
You can read about these actions and other things we are doing to reduce our
gender pay gap
.
For more information on our approach to diversity and inclusion please visit our
Diversity and Inclusion
pages and our
Diversity and Inclusion report
.
Notes
1Companies in the top quartile for gender diversity are 21% more likely to experience above average profitability (Source: 'Delivering Through Diversity' – 2018 McKinsey and Co).
2$12 trillion could be added to global GDP by 2025 by advancing women's equality of participation (Source: 'How advancing women's equality can add to $12 trillion to global growth' – 2015 McKinsey and Co).
3McKinsey Global Institute – COVID 19 and gender equality: Countering the regressive effects (July 2020)